Are you trying to be a rock star? Are you trying to learn how to sing with grit in your voice? Do you want to generate power and sing very easily with grit in your singing? Have you ever feel that you have all the unique and special characteristics in singing that no one else has?
If you have any of these questions and you want to develop grit in your voice, then you are in the right place because, in this article, I am going to show you all the ways and techniques through which you will be able to sing with grit.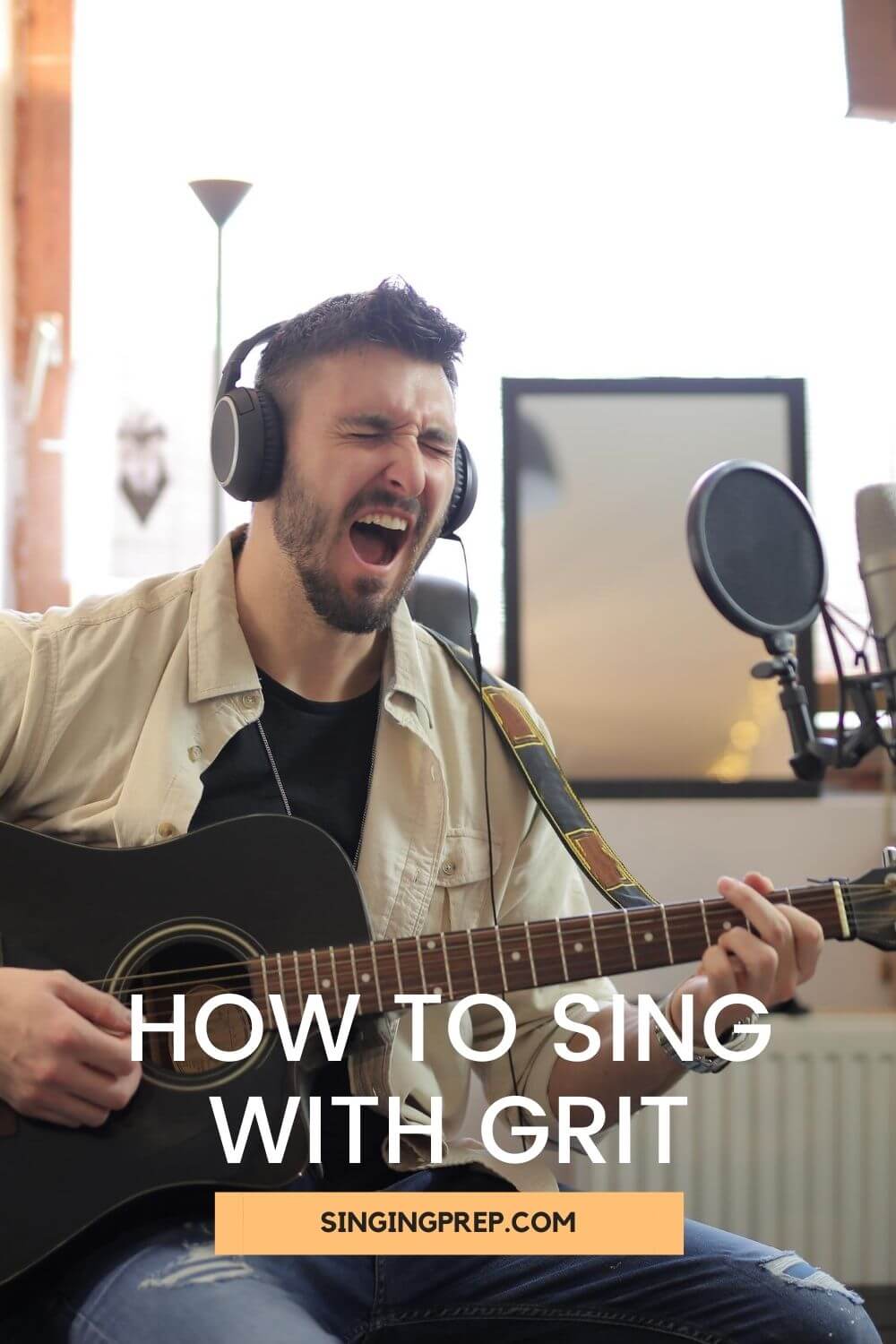 Before starting, I want you to get to know what is grit in the voice? Have you ever heard any rock star who is rocking the stage? Have you ever felt less extreme level distortion in your voice?
It is grit. It is the less extreme level of the voice distortion that is used by the rock stares to sing the heavy metals songs. But, you have to be very careful about this because if it does in the wrong way, it can take your singing from you for the rest of your life.
In this article, I will show you all the steps for the practice that can help you to develop grit in your voice in the right way, without disturbing your vocal cords, diaphragm, and throat.
Steps to develop grit in your voice:
The following are the main steps that are required to develop grit in your voice and sing with grit:
Breathing:
The very step is to support your vocals with the help of your breathing. You will be able to produce the volume as high as you want with the help of breathing and supporting your vocals in the right way.
All you need to do is to breathe with your stomach when you are singing and speaking. Use this technique first with the speaking and gradually apply it to your singing. For this, you can do the following things:
Stand up on your feet and put your hands on the left and right side of your body and make sure that your hands are below your ribcage.
Now you have to take a deep breath in such a way that it expands your stomach, back, and sides of your body. Your chest should not be over-inflated while doing this.
If you are finding any difficulty in expanding your sides and lower back. Do not worry, just try to expand your stomach. After some time, you will be able to expand your lower back and sides of the body.
Support:
Now coming to the part of the support. Now, you are required to use your pelvic floor to support your stomach. To this, you can take some help from the following points.
First of all, you have to raise your pelvic floor muscles upward. If you are finding any difficulty, you can take the help of the moment and feeling when you are holding your pee.
If you are supporting your stomach and diaphragm with the help of your pelvic floor and muscles, you will be able to generate as much power as you want to in your voice without any force or strain on your throat and vocal cords.
Once you are done with this practice, you will be able to support your stomach in just one second. You will be able to notice your stomach physically very firm if done in the right way.
Increase your intensity:
Once you are done with the breathing and supporting your diaphragm, the next step is to play and increase your intensity. The above two steps are very important to allow yourself to keep your vocal cord relaxed while pushing the air from your diaphragm. You should start with a low level of grit and increase it with passing time.
You have to start singing with one note, add some grit, and increase the grit in that note.
You have to increase your grit while keeping your vocal cord relaxed because you do not have to experience any strain or pressure. You have to shift yourself to the other notes and go as low and as high as you can. Master yourself with every note.
Proper care is a must:
Doing this all requires time and you have to change your grit gradually. You have to make sure that your practice sessions are very small. Take proper rest between the sessions because you cannot compromise on your voice. Once you feel that this grit is causing a strain and pressure on your vocal cords and throat, stop doing this in the first place.
If you are leveling up yourself, make sure that you are done with all the basics and you are very solid on them. After that, level up your volume while keeping your vocal cords in a relaxed state and supporting your stomach by the pelvic floor.
Do not skip any step because it can cause damage to your voice. It follows a very simple rule that the more you will practice, the stronger and relaxed will be your vocal cords, and the higher intensity you will be able to get.
All the steps together:
The final step is to do all the above-mentioned steps together. You have to breathe with your stomach, support your stomach with the help of the pelvic floor, singing with the grit and shifting notes one by one. After that, try to increase your grit and volume and be a rock star.
Conclusion: How to sing with grit
You have read all the points and now you have to take them into an account. For this, just follow all these steps and techniques.
If you want to get some motivation and determination, then imagine yourself rocking the stage and singing with a very high grit.
Yes, you can do this and you have to do this, just select a path and you have all the points. So, what are you waiting for? Start now because it is time for you.
If you wanna learn more about how to sing and get professional advice from a professional singer, click here.

Check out some of the most incredible testimonials from people that tried Singorama and improved their singing: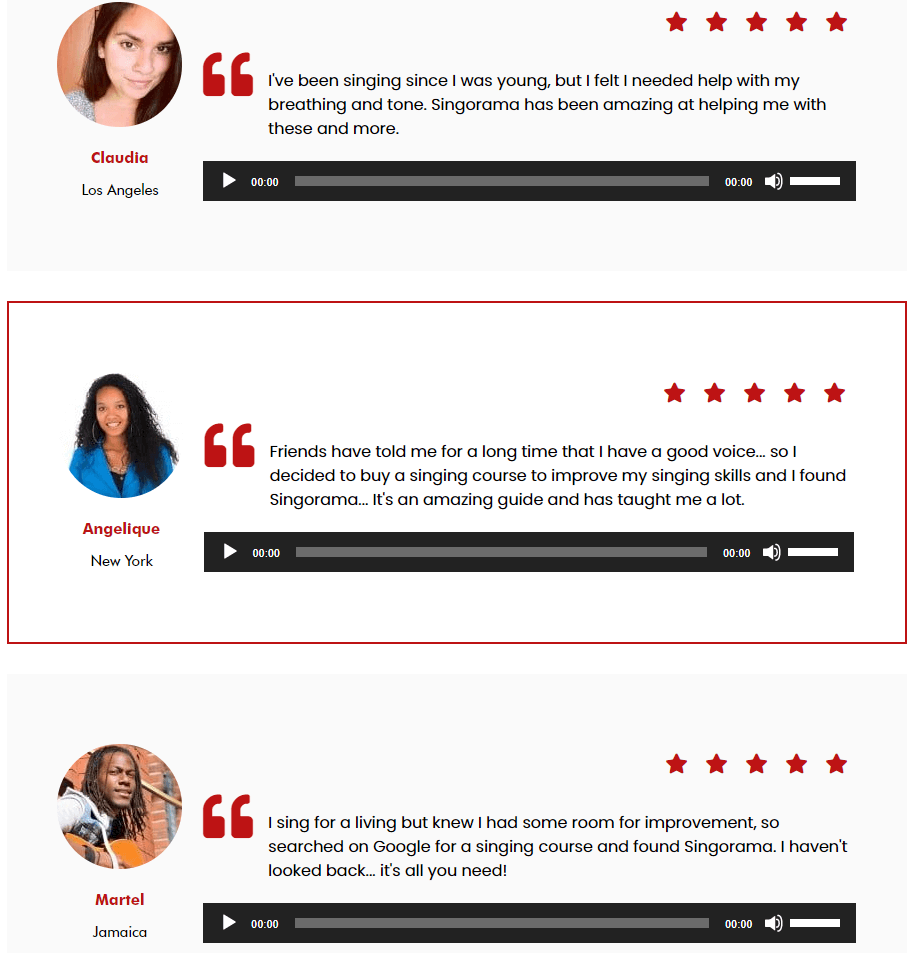 You get a 60-day money-back guarantee on 100% of the money you pay, and you get a 75% discount which makes this deal a one time offer, so don't wait and get a discount by clicking here.